Pocos títulos son tan atípicos y extraños en la historia Marvel como Weirdworld, una suerte de aventura de la editorial a una tierra de caballería, brujería y espada de Doug Moench, Mike Ploog y John Buscema. Por eso, cuando el título fue elegido como una de las 41 tierras del Mundo de Batalla de Secret Wars no pudo más que sorprendernos. Pero, claro, la elección tenía trampa. La nueva serie con el título no solo llevará la firma de dos grandes de la editorial, el guionista Jason Aaron y el dibujante Mike del Mundo (Elektra), sino a un personaje muy terciario del universo Marvel como protagonista. Eso sí, se mantendrá, la tónica de fantasía del proyecto original.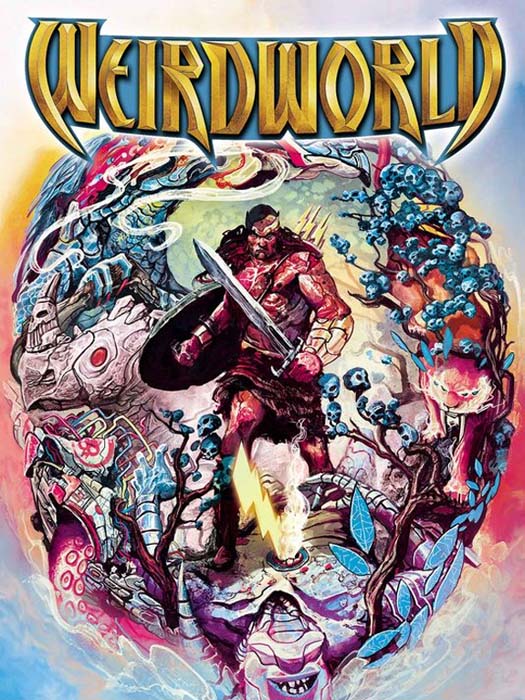 El protagonista de la serie que se estrena en junio será Arkon, un rey guerrero buscando un nuevo reino que gobernar. El personaje, una especie de Conan del mundo guerrero Polemachus, apareció por primera vez en Los Vengadores #75 de Roy Thomas y el propio John Buscema. Con el tiempo, se enfrentó también a Los 4 Fantásticos, la Patrulla-X o el Doctor Extraño, hasta su última aparición en Los Vengadores de Kurt Busiek y George Pérez a finales del siglo pasado, donde quedó como gobernador supremo de su mundo junto a Thundra. «Una vez fue un gran rey y conquistador», explica Aaron, «Un bárbaro gobernador entrenado para asesinar desde su nacimiento con hacha, espada y rayos. Pero cuando nos lo encontremos, estará solo en un mundo que no puede explicar ni entender. Un mundo en donde debe luchar cada día por sobrevivir, donde cada esquina trae un nuevo horror, monstruos y nuevas maneras de morir o volverse loco. Arkon solo quiere volver a su hogar».
Pero no estarán por allí los elfos Tyndall y Velanna de las islas de Klarn, ni el enano Mud-Butt que protagonizaron la serie original y que más tarde saltaron a Marvel Super Action, Marvel Premiere, Marvel Fanfare, Marvel Super Special y Epic Illustrated. "Esto no es una versión de la original, una especie de Señor de los Anillos Marvel», comenta Aaron que lo ve más cercano a Conan: «Habrá elementos de fanntasía, bárbaros con espadas y hechiceros oscuros con dragones, pero no estará limitado por el género. Imaginamos todas las historias favoritas de género, todas las películas de serie B de los 70, en un solo lugar. Es donde van a parar todas las cosas extrañas».
Nuevos títulos Secret Wars
En mayo:
Secret Wars, de Jonathan Hickman & Esad Ribic (8 números)

Inferno, de Dennis Hopeless & Javier Garron (regular)
Infinity Gauntlet, de Dustin Weaver & Gerry Duggan (regular)
Old Man Logan, de Brian Michael Bendis y Steve McNiven (regular)
Secret Wars 2099, de Peter David & Will Silney (5 números)
Where Monsters Dwell, de Garth Ennis & Russ Braun (5 números)
Inhumans: Attilan Rising, de Charles Soule & John Timms (regular)
A-Force, de G. Willow Wilson, Marguerite Bennet & Jorge Molina (regular)
Planet Hulk, Sam Humprhies & Marc Laming (regular)
Spider-Verse, Mike Costa & Andre Aruajo (regular)
MODOK Assasin, Chris Yost & Amilcar Pinna (5 números)
Ultimate End, de Brian Michael Bendis y Mark Bagley (5 números)
Master of Kung Fu, de Haden Blackman & Dalibor Talajic (4 números)
Secret Wars: Battleworld, de vv.aa. (4 números)
Secret Wars Jounral, de vv.aa. (5 números)
Deadpool's Secret Secret Wars, de Cullen Bunn & Matteo Lolli (4 números)
En junio:
Thors, de Jason Aaron & Chris Sprouse (regular)
Star-Lord & Kitty Pryde, de Sam Humprhies & Alti Firmansyah (regular)
Age of Ultron vs. Marvel Zombies, de James Robinson & Steve Pugh (regular)
Ghost Racers, de Felipe Smith & Juan Gedeon (regular)
Marvel Zombies, de Simon Spurrier & Kev Walker (regular)
Runaways, de Noelle Stevenson & Sanford Greene (regular)
Weirdworld, de Jason Aaron & Mike DelMundo (regular)
X-Tincion Agenda, de Marc Guggenheim & Carmine Di Giandomenico (regular)
Korvac Saga, de Dan Abnett & Otto Schmidt (regular)
1872, de Gerry Duggan & Evan Shaner(regular)
Futuro Imperfecto, de Peter David & Greg Land(regular)
E is for Extincion, de Chris Burnham & Ramon Villalobos(regular)

Listado completo de series: Secret Wars – Resumen de lanzamientos, tie-ins y conclusiones de series Marvel .