¡Buenas tardes! Este domingo puedo contaros que en…
-…Superman-Endless Winter Special #1 el Hombre de Acero se encuentra en medio de la batalla por el futuro de la humanidad.
-…
Tales from the Dark Multiverse – Flashpoint #1
volvemos al mundo donde Thomas Wayne es Batman y donde las amazonas están en guerra con los atlantes.
-…Wonder Woman #768 solo quedan dos números para que acabe este bluff. Ah, y aparece Deathstroke.
Dark Nights – Death Metal – The Last Stories Of The DC Universe #1
La última batalla contra El Batman que se descojona está a punto de empezar. Y aunque la noche suele ser más oscura justo antes del amanecer, ¿qué sería lo último que harías si no estuvieras seguro de que llegará el alba? Únete a nuestros héroes en sus últimas horas mientras atraviesan sus viajes a través de lo que podrían ser sus momentos finales…héroes que han luchado un millón de veces antes, pero son muy conscientes de que este podría ser su final. Estos son los momentos robados que detallan las últimas historias del Universo DC.
Mirad la lista de autores y flipad:
Este especial juega la carta de la nostalgia y la emotividad. De este modo consigue alzarse como lo único que merece la pena (hasta ahora) en el marasmo que es la epopeya ¿wagneriana metalera? de Scott Snyder.
American Vampire 1976 #3
Los últimos rebeldes americanos y los últimos restos del VMS persiguen las únicas pistas conocidas contra los planes inminentes de la Bestia para dominar el mundo. Mientras la tripulación de Skinner lucha por sus vidas a bordo del fugitivo Tren de la Libertad en los túneles infestados del suroeste…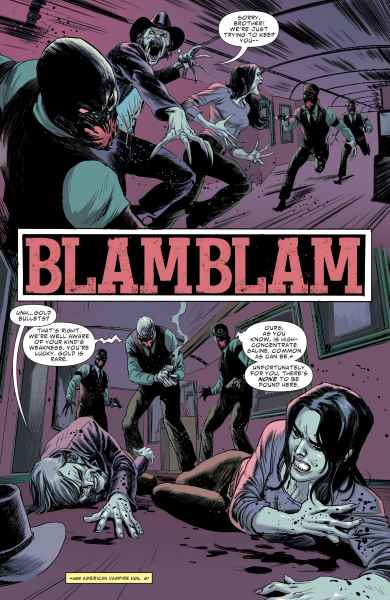 …Cal y Travis rebuscan en las vías debajo de Times Square en busca de rastros de la aterradora Bestia…
…pero son sorprendidos por la madre de todos los giros inesperados.
Sweet Tooth – The Return #2
¡Llega la segunda entrega de la segunda parte de la serie más mítica de Jeff Lemire! ¡El anterior numero acabó con el ¿regreso? de Jepperd! Y en este nuevo número (que no avanza mucho más con respecto a lo que vimos el mes pasado) nuevos monstruos acechan a la ¿reencarnación? de Gus.
Batman Black & White #1
A mediados de los 90`s, Archie Goodwin (probablemente el editor más importante de la historia de Batman, con permiso de Dennis O´Neil) reunió a los autores más importantes del medio para construir una antología en blanco y negro sobre El Cruzado de la Capa que rompería esquemas. Estos eran algunos de esos autores: Bill Sienkiewicz, Brian Bolland, Bruce Timm, Chuck Dixon, Howard Chaykin, Joe Kubert, Katsuhiro Otomo, Matt Wagner, Neil Gaiman, Ted McKeever, Walt Simonson, José Muñoz, Richard Corben, Simon Bisley, Tanino Liberatore.
En este revival encontramos:
– A James Tynion IV y Tradd Moore explorando el mundo de Ra's al Ghul y la Liga de Asesinos.
– A J H. Williams III regresando a DC Comics para un viaje por la historia del Caballero de la Noche.
– A Emma Rios explorando la eterna lucha del Caballero Oscuro contra el mal.
– A Paul Dini y Andy Kubert enfrentando a Batman contra una plaga de ninja Man-Bats en la Batcueva.
– A G. Willow Wilson y Greg Smallwood escribiendo y dibujando a Batman en su enfrentamiento más extraño con Killer Croc.
La portada de la semana es…Batman Black and white #1
El guionista de la semana es…Archie Goodwin
Goodwin fue uno de los más grandes editores de cómic americano de la historia: uno de esos raros ejemplos donde la visión, el vigor y la libertad se unen para guiar a los autores por el camino del arte. A su labor como editor y escritor debemos (además de la primera serie de Batman Black and white) Creepy, Eerie, Blazing combat, Manhunter, Epic, El largo Halloween, Victoria oscura y muchos otros maravillosos cómics.
El dibujante de la semana es…Emma Ríos
El mini-galardón de esta semana podría haber caído en las manos de cualquiera de los artistas de Batman Black and white, pero la dibujante gallega debía llevarse el premio por ser su historia su primera colaboración con DC. Estas son algunas muestras de su arte:
Y la semana que viene…
Batman #105
Dark nights: Death metal #6
Rorschach #3
The Batman´s grave #12
The Green Lantern Season Two #10