DC anuncia la próxima reedición de los números 2 y 3 de JSA: Classified este mismo mes. Ya sea por el tan anunciado origen definitivo de Power Girl, o por prometer grandes sorpresas de cara a la Infinite Crisis, el hecho es que los primeros números de este título se han agotado rápidamente. Sin ser una serie pretenciosa, Geoff Johns está realizando un excelente trabajo en esta serie, a priori innecesaria, tocando aspectos que la serie madre, JSA, ha dejado de lado a favor de otros. Y es que cuando uno juega con supergrupos no es fácil tratar las individualidades de los personajes (salvo honrosas excepciones).
En ella encontramos una Power Girl con una personalidad más chispeante que nunca, a la vez que vemos la tragedia que es su vida, sin saber quién o qué es, diciéndonos que no es fácil sonreír cuando tu vida está llena de desengaños y mentiras. Johns ha empezado tirándole a la cara todos los orígenes que ha tenido hasta el momento, literalmente, desconstruyendo, para en el próximo número darnos la respuesta final al misterio. La Cazadora, ahora recuperada para la JSA como antaño, tiene su pequeña intervención jugando el papel de amiga comprensiva muy a pesar suyo. Johns en todo momento nos demuestra su conocimiento de los personajes, y no se limita a utilizar los personajes según convenga a la historia, sino que los escoge según lo que pueda aportar cada uno de ellos a la misma…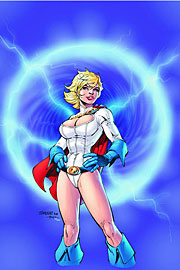 La portada del Infinite Crisis #2, por si alguien no la ha visto, no muestra más que a Power Girl con un fondo digno de Lynn Varley en un buen día (yo esperaré a ver la portada de Perez). Esto nos indica la importancia que tendrá la chica del escote en la saga, claro. Me parece algo incómodo el medio-secretismo con el que están envolviendo toda la Crisis, pero he de confesar que están obteniendo el efecto deseado. En la actualidad, el uso y abuso de la información más reciente gracias (o por culpa de) Internet impide a muchos guionistas desarrollar sus historias de modo que produzcan el efecto buscado. Para cuando los cómics son una realidad, para los lectores son noticia de ayer.
El primer arco argumental de JSA Classified se anunció como el sorprendente origen definitivo de Power Girl (por si alguien se acordaba de que aún no tenía; no era mi caso), sin embargo ahora lo presentan como el auténtico prólogo a la Infinite Crisis. Lejos de guerras estelares, OMACs y demás, la pequeña intervención del Psico Pirata en la vida de Karen (o Kara, o como se acabe llamando) ha dirigido el curso de la historia hacia parajes mucho más cósmicos de lo que en un principio nos habían dicho. Y a la vez ha reavivado la emoción que muchos sentimos cuando se acercaba la Crisis en Tierras Infinitas (quien haya leído el número 3 de JSA Classified sabe de qué hablo).
Paralelamente a la publicación de los primeros números de Infinite Crisis se publicarán los recopilatorios correspondientes a:
–Day of Vengeance, incluyendo Day of Vengeance #1 a 6, Action Comics #826, Adventures of Superman #639 y Superman #216. Esencialmente relata la lucha contra el Espectro y Eclipso.
–The OMAC Project, que contiene Countdown to Infinite Crisis, The OMAC Project #1 a 6 y Wonder Woman #219. Y así pasan del crossover de Sacrifice y van al grano.
–Villains United, únicamente con los 6 números de la miniserie del mismo título.
–Rann / Thanagar War, con la miniserie de 6 números y nada más.
–Crisis on Infinite Earths: The Absolut Edition, el tomo del vigésimo aniversario del histórico evento. Se presenta en cofre, y serán dos libros. El primero, de 368 páginas, contendrá la serie, y el segundo, de 98 páginas, contendrá un auténtico "cómo se hizo", con notas, versiones previas del argumento realizadas durante años hasta que el proyecto se llevó a cabo, comentarios de Marv Wolfman y Jerry Ordway y más… Una joya. 99'99 dólares.