Hace solo unas semanas se anunciaba el fichaje de la actriz Lina Esco (Heroes: Destiny, Cane, Free the Nipple) para participar en la serie televisiva de Lucifer que adaptará libremente el cómic spin-off de The Sandman de la línea Vertigo de DC Comics firmado por Mike Carey. La también guionista y directora iba a interpretar a Maze (Mazikeen en los cómics originales), la mejor amiga del protagonista al que pondrá rostro en la serie el actor galés Tom Ellis, pero ayer conocíamos a través de The Hollywood Reporter que después de la primera lectura para el piloto de la serie Lina Esco estaría fuera de la producción en favor de Lesley-Ann Brandt (Spartacus, Gotham).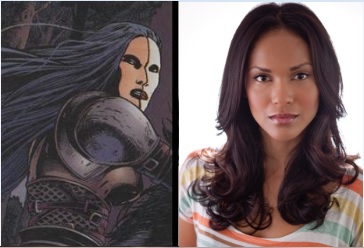 La actriz
Lesley-Ann Brandt
nuevo rostro para Maze en Lucifer
Lucifer es la adaptación televisiva producida por FOX, Warner Bros. Television y Jerry Bruckheimer Television del famoso cómic homónimo de la línea Vertigo escrito por Mike Carey y dibujado por Peter Gross, spin-off a su vez de la cabecera de The Sandman creada por el cuentacuentos británico Neil Gaiman. La historia original de Lucifer parte del arco argumental Estación de Nieblas en el hizo aparición por primera vez en 1989 este personaje, un ángel caído que renuncia a su título de Señor del Infierno y se retira a Los Ángeles para regentar un piano bar musical mientras lucha contra la tiranía de su predestinación. En la serie de televisión Lucifer se dedicará a ayudar a la policía a resolver casos criminales con el rostro del actor galés Tom Ellis (Once Upon a Time, Doctor Who) y al que secundarán Lesley-Ann Brandt interpretando a Maze ( Mazikeen en los cómics) y Lauren German como Chloe Dance. El piloto de la serie estará escrito por Tom Kapinos (Californication) y dirigido por Len Wiseman (Underworld, La jungla 4.0).